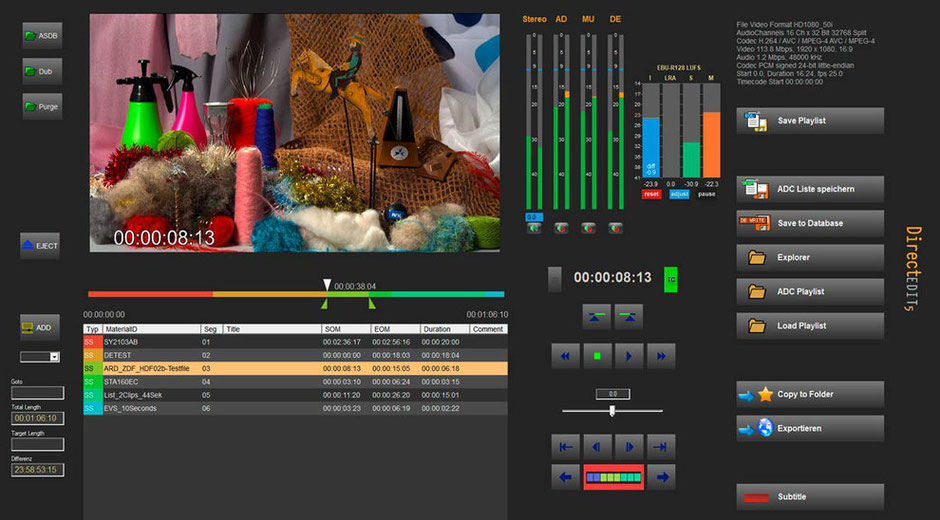 From the clean and slim user Interface with user customizable buttons and shortcuts you can
View full screen,
play, jog and shuttle, goto TC

monitor audio VU, Peak and LUFS, timecode
create clipped Playlists
extract single frames to JPG or PNG
ANY media file format and container including
XDCAM HD 422

MOV
HEVC
AV1 and even audio only.
Resulting from many years expierence in broadcast, we know what is needed in practice. No need to bother about installed codecs, frame-rate or format. Just drop from the File Explorer and play. Video-, Audio- format and FPS is always converted into the selected view format.

Audio monitoring VU or Peaks, includes 8 channels of 4 pairs, customized naming and desktop stereo listening of selected pair. Numerical display of EBU R-128 LUFS measurement of selected stereo pair. EBU-R level and scale selectable. Gain adjustment automatic or manual. Audio routing between pairs, doubling or silence. NDI Connectivity as sink or source included.
Timecode Monitoring
Display of frame number Timecode or file Timecode, Burn-In Timecode selectable.
---
Options are:
Export playlists as perfectly rendered media (using GPU if available) having:
adjusted audio levels and channel assignment
different FPS, Video-Audio Scale and Conversion to HiRes or LowRes
---
Option Export
Create new Media files from clipped Playlist items back-to-back. Audio gain and playback speed changes are applied while rendering, taking about half real time of the total duration with HD. Format, container, compression ratio etc. can be selected from a customized List. See Output Specifications.
Option SDI Output and SDI Input
Enables Real time Playback and Record and also Live Feeds to YouTube or Facebook Live

uses SDI/HDMI cards (not included) from
Blackmagic

AJA

Deltacast

Bluefish444

Stream Labs

Osprey

Magewell

DekTec
combined with Option RS422 VTR Control allows Frame accurate Ingest or Playout (on request).
Option TimeShift, where the SDI signal is played out to SDI with a specified Delay of seconds to hours (on request).
Option Subtitle
View Subtitles in a seperate Dialog or "under monitor", relocate and auto-rename STL files, compare and synchronize to media timecode.
Option Streaming
the Export capabilities can be applied for output streaming. This could be RTMP, UDP, Apple HTTP, WebRTC, SRT.

Option Shotlist
For live Studio recording we created a special "Shotlist" mode, with instant Playback (1 Frame delay) from the Playlist with a button for every single line. With remote hardware buttons at hand of the show master, it also sets the Video Switcher via GPI for instant on-air. SDI out option needed.
Including Arduino Hardware Box. Connection to the PC by RS422 using USB Adapter. GPI to the Switcher via opto coupler. Available from Dec. 2018.
Option ADC

In the control room you can verify ingested material, clip it to correct SOM and EOM marks and update the Automation Material Database. Imported Dub- and Purge Lists from the traffic system provide easy management of incoming and obsolete material.
 ADC Playlist Version12 Import and Export
---
we are working on multiple output file creation or streams with different Codecs and Containers, creating a cross-coding station using hot folders. Reading and writing ANC Data, SCTE-35 and SCTE-104 triggers.

---
Download your trial version of the professional DirectEdit Media Player here.